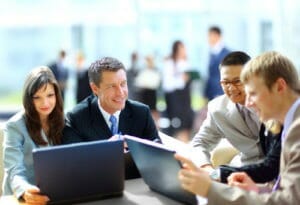 Business Brokerage Services
After you have selected a business brokerage services firm to work with to sell a business, they will assign you a business broker agent. The agent's job is to do everything in her power to sell your business. In many cases, that is how they will earn their money (by commission upon the sale).
It's important to understand the scope of the agent's responsibilities. After all, in most states you will be paying up to ten or twelve percent commission at the end of the transaction so you want to make sure the agent is allocating enough of their time and energy to sell a business for you. If for any reason the business broker is not meeting your expectations, you have the right to sever the relationship. It may cost you a little money to do this, but if the situation is not working for you there is just too much at stake to keep a bad thing going.
Here are some expectations a business owner can reasonably have of their business brokerage services:
A business brokerage service makes sure the selling of your business is a confidential affair.

Certified business brokers are highly-skilled at establishing an appropriate value to your business. At American Fortune, we recommend a Certified Business Valuation that has a defensible valuation.
A business brokerage service needs to have market knowledge. They buy and sell businesses for a living. Due to this, it's fair to expect them to know the selling environment you are entering…the good points to it and the bad. This will help you develop an effective strategy to separate your business from others that may be selling in the same industry.

A business brokerage service should save you time and stress. If you are sinking too much of your energy into selling your business and your business is beginning to suffer because of it, your business brokerage service is not doing their job.

A business brokerage service should have myriad ways to advertise that your business is for sale. When you ask about this prior to selecting a broker, make sure their methods are not ones you could easily replicate. Remember, you are paying a premium for their help and expertise.

A business brokerage service should have countless methods for marketing your business for sale. Unlike advertising, which focuses on the ways to make people aware your business is for sale, marketing focuses on the different ways various ways to share information on your business. For example, creating and promoting a website about your business is a way of advertising, but the content of the website is marketing.

A business brokerage service should be available any time of day or night to field calls from interested buyers.

A business brokerage service should have a screening process in place that "weeds out" the buyers that are not qualified to purchase your business. Furthermore, this is a part of their job that you might be interested in contributing to…since it is your business. What is important a buyer have in order to keep your business profitable and growing?

A business brokerage service negotiates the deal. This includes negotiating the price, the facility lease agreement (or transfer), the methods of financing the deal, etc.
To learn more about our business sale services please visit: American Fortune Mergers & Acquisitions
We have taught clients how to sell or buy businesses, performed business valuation services, exit strategy planning services, mergers & acquisitions advisor services in the following areas of the USA: Columbus Ohio, Atlanta Georgia, Lexington Kentucky, Bowling Green Kentucky, Nashville Tennessee, Memphis Tennessee, Cincinnati Ohio, Dayton Ohio, Toledo Ohio, Los Angeles, Cleveland Ohio, Pittsburgh Pennsylvania, Baltimore, Maryland, Indianapolis Indiana, Chicago Illinois, Detroit Michigan, Flint Michigan, Tampa Florida, St. Louis Missouri, Kansas City Kansas, Des Moines Iowa, Minneapolis Minnesota, Louisville Kentucky, Oklahoma City, Oklahoma, Dallas Texas, Fort Worth Texas, Denver Colorado, San Francisco California, Salt Lake City Utah, Phoenix Arizona, Lexington Kentucky, Los Angeles California, San Diego California.