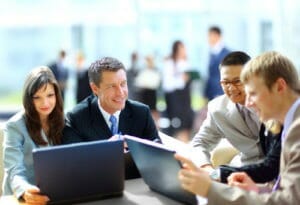 Business Brokerage Companies, What Can You Expect?
Not all business brokerage companies provide a complete host of services. After carefully researching and finding the right business brokerage firm for you, that firm will assign you a business broker agent. Working with an agent directly and understanding the services available through that brokerage firm is vital for having the experience you need to successfully sell your company.
To establish clear expectations for brokerage services, you'll need to get a sense of how these companies and brokers work. A firm should have a proven track record, and an agent must provide easy communication. The agent will prime your business for sale, which means that they have many responsibilities and may need to collaborate with various other professionals throughout the process.
Business Brokerage Companies and Working with your Broker
Your broker will serve as the bridge between you and everyone else involved in the sale process. That means they'll connect and collaborate with professionals and potential buyers. They should do everything possible to sell your business. For most business owners, that's not enough.
A well qualified business broker agent will do everything possible to sell the business at the best price and the best buyer. Most business owners aren't looking to unload their company but instead, want to hand it down to someone who will continue its success.
A business broker agent should have the network and skillset to identify potential buyers that could lead the company forward and qualify financially for the best possible sale price.
How can a business broker accomplish this? When working with a business broker agent, you should expect all of these services:
Proper and comprehensive business valuation
Drafting of the business review or offering summary
Create a customized marketing plan based on the company size and industry.
Vet and introduce prospective buyers
Coordinate communication between potential buyers and the seller
Craft offers
Negotiate on behalf of the seller
Conduct due diligence investigations
Assist the buyer through acquisition financing
Facilitate the closing transaction
Many business owners don't realize that they're not getting the best experience until an agent claims that they don't provide some of the services listed above.
Every business owner has the right to walk away from an agent if they're not delivering vital brokerage services. If a broker does live up to your expectations, you have the right to end that relationship. Sometimes the money spent ending a contract is less important than finding the right broker to handle your sale.
Agent's responsibilities cover a broad scope. In many states, you may pay 10 or even 12% commission. Ensure that the agent you're working with will allocate their time and energy to selling the business.
What You Should Expect When Working with Business Brokerage Companies
Although you can get into technical services which a brokerage should offer, they should all contribute to these key facets of selling a business. Stress, value, time, and privacy can all impact the company, the buyers, and the seller.
You should always expect the business brokerage service to eliminate stress, boost value, reduce time, and ensure privacy. If they cannot guarantee these things then you may not have found the right brokerage service for your company.
Eliminate Stress
Most sellers explain the entire selling process as stressful as best. Business brokerage services should ensure that you're not devoting too much time or energy to selling the business because you still have a business to run!
Working with a business broker agent should provide the following services to reduce stress:
Develop effective marketing strategies
Implement a robust sales strategy
Navigate the market and potential buyers accommodating for the current market environment
Manage buyer vetting to avoid wasting time with unqualified buyers
The stressful challenges of selling a business include running the company, coordinating the sale, and handling potential buyers. An agent should address the sale and any buyer issues that arise so you can continue running the company smoothly. Selling a company should not be the stressful event that most sellers experience. Working with a qualified and experienced business broker can dramatically change the process of selling a business.
Boost Value
Boosting value begins by establishing a comprehensive valuation. Many services fall short and use incomplete or inaccurate metrics to estimate a business' value. Business owners who work with a business brokerage have the opportunity to have certified business brokers appropriately value the business.
A business brokerage service must use their market knowledge regularly because they buy-and-sell businesses for a living. These services should understand the current selling environment and work with that environment for the seller's advantage.
Business brokers have in-depth knowledge of the market and use that knowledge when assessing your company's value. These valuations must be defensible.
A defensible valuation will ensure that the value will hold up or be difficult to break down during negotiations. These valuations can also serve as a starting point for owners looking to sell under ideal conditions.
At American Fortune, we recommend a Certified Comprehensive Business Valuation. We also provide Business Valuation Estimates and a Calculation of Value to support owners who want to assess how they can boost the company's value before moving forward.
 Business brokerage companies should also present clear aspects of the valuation that may not appear on paper. Many services inaccurately value a business simply based on financial documents that represent assets and liabilities. Your business has value in its market position, quality of staff, customer following, and more. These aspects of a business' value don't appear transparently on financial statements, but should appear in a comprehensive valuation report.
Move More Quickly
All Business reported from a survey of business brokers that 31% of brokers consider 9 month to sell a business as average. Another 28% reported that 6 months was average. There's a bit of trouble with these estimates, they don't always move to the sellers advantage.
It is possible to sell a business and close quickly. It is also possible to move quickly with the sellers best interest in mind. This process starts by carefully screening potential buyers, and working to assess the possibilities of financing and running the company.
Screening potential buyers is time-consuming, but it saves owner's time from engaging with buyers who don't qualify. Many business owners have struggled through challenges during the closing of a deal because their buyer didn't meet every requirement.
Many potential buyers will require financing to go through with the final transaction. Obtaining the financing could be a challenge. A business broker agent should guide the seller's ideal buyer through that process and ensure that they can qualify for the necessary financing before moving forward.
A business brokerage service can also expedite the selling process by setting clear expectations. These agents should work with the seller to establish the lowest acceptable price and the highest reasonable bids to expect. Then they can work within that range to handle negotiations.
Ensure Privacy
A business brokerage service must ensure that selling your company is a private event. Lack of confidentiality can compromise a sale, but it can also compromise the success of the business. If key employees found out that you were selling, they may leave because of apparent uncertainty. Loyal vendors may leave because they don't want to work with someone new.
Maintaining confidentiality is vital. The business brokerage firm must have the importance of privacy ingrained in their culture. Confidentiality is not a negotiable element in mergers and acquisitions.
Your agent must understand how to market your business in ways that won't place the company at risk. Even if only a small amount of information leaks out through everyday discussions, it could derail the transaction.
In addition to base-level privacy concerns, many sellers must also exercise caution when providing data to potential buyers. They must ensure that even through due diligence they are not personal and business data should and should not be shared. Privacy is an issue of protecting the sale, the business, employees, vendors, and customers. Privacy aligns with due diligence and can quickly become a legal obstacle and present compliance challenges.
Conduct and Practice
When choosing the right business brokerage companies and as you begin working with an agent you should have high expectations for their conduct. Conduct and practice direct the entire brokerage and their agents.
Always expect your broker to put professionalism first. Any broker or agent that doesn't place professionalism as a top priority will likely not deliver the degree of privacy, or dedication to value boosting that your business sale needs.
You should not experience any pressure to accept deals which don't fit within the comprehensive valuation. An agent should never set aside or downplay the needs of the business for future success either.
Business brokerage services should showcase the experiences of their clients to show that their practices and ethics are in place.
At American Fortune Mergers & Acquisitions we value the seller's needs and helping them find the best buyers for their business. Our business broker agents have experience in handling sales, negotiations, and helping sellers plan a transaction that benefits them and their business. Contact American Fortune Mergers & Acquisitions to begin discussing key brokerage services including the right type of valuation and agent for your business.
To learn more about our business sale services please visit: American Fortune Mergers & Acquisitions
We have helped clients sell and buy businesses, performed business valuation services, exit strategy planning services, mergers & acquisitions advisor services in the following areas of the USA: Columbus Ohio, Atlanta Georgia, Lexington Kentucky, Bowling Green Kentucky, Nashville Tennessee, Memphis Tennessee, Cincinnati Ohio, Dayton Ohio, Toledo Ohio, Los Angeles, Cleveland Ohio, Pittsburgh Pennsylvania, Baltimore, Maryland, Indianapolis Indiana, Chicago Illinois, Detroit Michigan, Flint Michigan, Tampa Florida, St. Louis Missouri, Kansas City Kansas, Des Moines Iowa, Minneapolis Minnesota, Louisville Kentucky, Oklahoma City, Oklahoma, Dallas Texas, Fort Worth Texas, Denver Colorado, San Francisco California, Salt Lake City Utah, Phoenix Arizona, Lexington Kentucky, Los Angeles California, San Diego California.