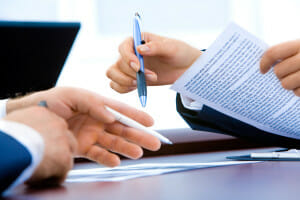 Business Broker Services
When a business owner enlists the business broker services to sell a business, they will work with one of the brokerage's agents.  Since you are paying the broker services to help you, they are working for you and it's important to know just what services your business brokerage firm can and/or should provide in order to make your business sale a success.
Here is a list of the most common business brokerage services:
A business broker can help provide business valuation services.

 

There are several techniques to determine this value and your business broker may use more than one.

 

The key is that your business value is defensible.

 

A defensible business valuation gives owners confidence in their asking price and the reasons for it.

 

This prepares sellers for the arguments a buyer will make to try and justify a lower price for the business.
 A business broker can provide review services on the business that outlines the company for potential buyers.

 

This document is generally 10-15 pages in length.
A business broker can perform searches for potential buyers.

 

Some business brokers have proprietary systems they use to conduct these searches.

 

When selecting a business broker, it would be wise to inquire about their search processes.
The broker will market your business for sale.

 

Common ways to do this a broker will include listing your business on their company website, listing it on third-party, member-only websites that specialize in listing businesses for sale services, and advertising it in trade and industry-specific magazines.

 

This is another area to ask about when selecting the services of a business broker.

 

The more unique and comprehensive their marketing techniques are, the better chance your business is sold.
A broker will help in screening buyers.

 

Not every interested buyer is a match.

 

Screening interested parties based in their prior ownership history, their ability to finance, etc. can save both the business broker and the owner a tremendous amount of time.
The broker will provide negotiation services and offer deal structuring advice.
The business broker will walk the business seller through every step of the selling process and make sure they are prepared and properly informed.
A business broker will assure that the confidentiality of the business sale is kept in-tact.
American Fortune has taught clients how to sell or buy businesses, performed business valuation services, exit strategy planning services, mergers & acquisitions adviser services in all areas of the USA:
Business Broker Services for Selling a Business