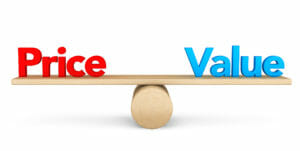 Appraisal Report by American Fortune Business Valuation Services
A Independent Business Valuation Report is valuable in a sale or buyout of a business, estate planning, exit planning, tax planning, buy-out agreements, or divorce. However, the most important reason for an independent business valuation report is the knowledge it yields. Once the owner and or their advisers know the market value of a business they will also learn how objective and subjective value drivers decrease or increase the value of a business. They are able to use this knowledge in successfully growing the value of their businesses.
It's common that many business owners often leave substantial money on the table when they sell their businesses. The most common cause for this result is the fact the business had nothing in place to defend the asking price and or the value of their business. As a result the buyer and their advisers were able to discredit the asking price piece by piece as the seller stood by defenseless. If the business owner had an independent business appraisal report the outcome would have been successful to the seller. For that reason, the business valuation report is a true asset to the business owner. Additionally, a thorough, professionally prepared business valuation report will assist them in:
Helping identify the key value drivers, major strengths, and more importantly, the major weaknesses of a company allowing the owner to solve both obvious and hidden problems prior to the selling process.
Determining a reasonable selling price. Many owners rely on general rules of thumb, casual advice from friends, or other similarly unreliable sources. Values determined by general multiples or rules of thumb may be too high or too low. Unless the business owner goes through the valuation process, he just will not know. If the owner's expectation of value is too high, it will prolong the selling process until a price concession is made. If the price is too low, money is left on the table.
Fully understanding the value of the business will assist during negotiation. In this market, one can expect buyers to be sophisticated and experienced. They will conduct a rigorous analysis of the company even if the seller has not. They will look at those factors and value drivers that the owner and his advisers should consider in valuing the company, and they will use that information against the seller in negotiations if allowed.
American Fortune Business Appraisal process can be divided into 5 steps:
1. Determining the purpose of valuation, and ownership interest being appraised
2. Obtain and review key elements of the business which includes but is not limited to: Corporate Documents, Financial Records, Market, Key Personnel, Key Customers, Industry Trends, and Comparable Sales of Similar Companies.
3. Determine value indications of the business and owned non-operating assets using 3 categories of valuation approaches: Asset, Market, and Income.
4. Determine final indication of value after consideration of all information obtained, reviewed, and analyzed and making appropriate allocations for goodwill and other intangibles the business possesses.
5. Prepare a written business appraisal report.
Our Experience and Qualifications
At, American Fortune business valuation services is one of three key services we provide in addition to Business Exit Planning and Business Sale & Acquisition services. Therefore we have a lot of practical and market valuation experience which comes from our daily involvement with Business Sales and Merger & Acquisition and Exit Planning services. This combined expertise and experience results in a business appraisals that are more accurate, credible and defensible than a business valuation report prepared by companies that do not poses market experience and business sale (merger & acquisition) and exit planning expertise. The advisers at American Fortune work on hundreds of projects each year. Our valuation experts have experience in valuing businesses in a variety of different industries including manufacturing, distribution, retail, healthcare, banking and finance, engineering and high technology. This diverse background allows us to knowledgeably undertake valuation work for virtually every possible business and purpose.
To learn more about American Fortune Business Valuation services click on this link.
American Fortune has developed a very reliable business valuation in a Summary Format. Although this Summary Valuation is presented in a short format (12 page report) it is quite an accurate indication of a business value. How are we able to accurately value a business in a Summary Format? Our ability to perform a business valuation report summary comes from our expertise in business valuations and expertise and experience in mergers & acquisitions (business sale & acquisitions). The combined expertise and know how affords us the capability to produce very reliable and low priced business valuations. The valuation of businesses is often misunderstood; it is sometimes viewed as a mystery. The truth is that business valuations when prepared by professionals with expertise in the science of valuations coupled with a clear and practical understanding of the market forces which impact a valuation, the result is a very accurate and defensible business valuation report.
To perform the Business Valuation Report Summary we gather objective data such as 3-5 years of tax returns and or profit & loss statements, comps and other financial information. We also collect a variety of subjective information on the business such as industry trends, competition, style of ownership, mode of operation, customer concentration, products mix, etc.
The typical uses of business valuations are; sale or buyout of a business, estate planning, exit planning, tax planning, buy-out agreement, divorce. However, the most important reason for a valuation is the knowledge it yields. Once the owner and or their consultants know the true value of a business they also learn of the objective and subjective valuation drivers that decrease or increase the value of a business. This knowledge enhances the planning of value and preparation for predictable and unpredictable events.
Like a medical checkup, Business Valuations should be conducted on a regular basis because business value can fluctuate depending on market conditions, competition and financial performance. Each business is unique and a valuation will help diagnose whether that business is healthy or promoting unhealthy practices. Business Valuations are essential in many circumstances – estate planning, partnership buy-outs, business sale & acquisitions, bank loans, divorce, and as a benchmark when an owner wants to increase the value of the business.
American Fortune Business Valuations offers three types of valuation reports as follows:
Business Appraisal Report Summary – designed specifically for small businesses with sales of $1 Million or less. The valuation produces business value in a summary format. It utilizes three valuation methodologies. The report is 12 pages. Price of the valuation is $500.
Intermediate Business Appraisal Report – intended for businesses with sales of $1 to $3 Million. This limited scope business valuation report uses basic value drivers to produce a semi-formal valuation. It utilizes four to five valuation methodologies. The report is 30-35 pages. Price of the valuation is $2,000.
Comprehensive Business Appraisal Report – intended for larger businesses with annual sale in excess of $3 Million. This business valuation that incorporates broad and complex business reviews, financial reviews and analysis. This valuation is very defensible. It utilizes seven to ten valuation methodologies. The report is 40-50 pages. Price of the valuation is $4,000.
Sample valuation reports are available upon request.
If you are a business owner contact us to have your business valued. If you are an adviser to business owners please pass this opportunity on to business owners that you serve.
To learn more about American Fortune Business Valuation Services, you can visit the American Fortune website at fortunebta.com.
We have provided clients with Business Appraisal Report Summary work in the following areas of the USA: Columbus Ohio, Atlanta Georgia, Lexington Kentucky, Bowling Green Kentucky, Nashville Tennessee, Memphis Tennessee, Cincinnati Ohio, Dayton Ohio, Toledo Ohio, Los Angeles, Cleveland Ohio, Pittsburgh Pennsylvania, Baltimore, Maryland, Indianapolis Indiana, Chicago Illinois, Detroit Michigan, Flint Michigan, Tampa Florida, St. Louis Missouri, Kansas City Kansas, Des Moines Iowa, Minneapolis Minnesota, Louisville Kentucky, Oklahoma City, Oklahoma, Dallas Texas, Fort Worth Texas, Denver Colorado, San Francisco California, Salt Lake City Utah, Phoenix Arizona, Lexington Kentucky, Los Angeles California, San Diego California.