How Exit Advisors Can Impact Your Business' Legacy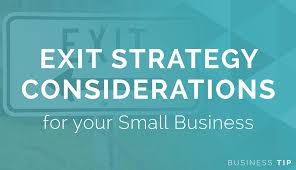 Exit advisors help business owners people prepare a way out of their business.  In the best situations, entrepreneurs exit the company with a firm handshake, a nice check, and the knowledge that the company will continue successfully.
The continuation of the business' legacy and success should sit at the forefront of a sale or owner-exit. Exit advisors act as the primary proponent for the company's legacy, rather than the seller or the buyer.
Does your company have an exit plan? Every business and every business owner needs an exit plan. Now is the time to plan for your company's long-term success, even after it changes hands. Some entrepreneurs consider selling their business for a profit from day one. Others are approaching retirement and want to step away from the business. With nearly 10,000 baby boomers reaching retirement age each day, there's a surge in business owners looking to protect their company's legacy while also moving on in life. To step away from the business with the company's best interest in mind is to use a
The exit plan, or the exit strategy, will require proper business valuation and careful handling of the sale. The person to cultivate a smooth process with desirable results is an exit advisor.
What is an Exit Advisor?
An exit advisor is a skilled business person who has expertise in both valuing and selling companies. Ideally, they will strive to preserve and increase the value of the business. An exit advisor should work collaboratively with you and key people within your company to improve its likelihood of success and plan for a smooth exit.
Exit advisors should carry a recognized certification that acknowledges their in-depth knowledge in transferring ownership, valuing a business, and handling all related matters. CExPs must remain on good terms with the Business Enterprise Institute.
You should expect any exit advisor to fully understand:
Accounting
Finance
Systems
Financial and business analysis
Marketing
Legal facets of business sales
A skilled exit advisor should have:
Deep knowledge in all financial elements of business
Outstanding communication skills
Strong negotiation skills
Advanced creative thinking and problem-solving abilities
Using their combination of experience, skill, and unique insight into the market, your exit advisor should consult with you to build your legacy. As part of that process, they should prepare the business for sale, at the highest possible market price, and conduct a full business analysis. One critical tool in exit planning is the SWOT analysis. The exit advisor can work closely with leading people within the company to cultivate a transparent and whole image of the company's strengths, weaknesses, opportunities, and potential threats.
An exit advisor should not just take the first decent bid but should help you select the best new owner for your company to preserve your legacy.
Where an exit advisor differs from an investment banker (although you may need both) is that they have your best interest in mind. Your exit advisor should protect the deal, ensure the structuring terms are agreeable, and protect all personal information and business information. It is often exit advisors that can help sellers safeguard against less-than-satisfactory M&A tactics that leave former business-owners in the lurch
Crafting a Successful Exit Plan
What makes a successful exit plan? Your exit plan should address the business's future success and meet or exceed your personal and financial goals. However, your exit plan can't succeed if it doesn't account for the negative possibilities. An exit advisor will craft an exit strategy that addresses all manner of positive and negative possibilities that should still lead the owner and business toward desirable parting terms.
To accomplish this, advisors consider elements beyond generalized business valuations or the value of the EBITDA. They consider taxes, legal protection, money management, financial goals, and industry models, as well as operational management, asset investments, and even emotional elements. While buyers and bankers are only worried about the numbers on the page, advisors work to sustain family harmony and emotional stability throughout this complex process.
When crafting an exit strategy, advisors should capitalize on the business' strengths while reducing the impact of potential threats and weaknesses. The idea here is to help buyers or bidders that are willing to pay the best price and who can handle the threats and weaknesses. There is not any trickery here. It is effectively laying the important cards on the table.
An exit strategy should include:
Goals – What the owner wants and needs out of the deal
Time – What is the time frame on the sale, or is the time frame flexible?
Intention or legacy of the business – Will the business continue, or should it dissolve at some point? Does the potential buyer intend to dissolve the company? Will the business need succession planning or liquidation planning?
Next stages for the owner – Will the owner need proceeds from the sale for retirement or another investment?
The plan is a blueprint for the entirety of the process from day one to what happens after signing the pages and handing over the business. That blueprint should directly address demands and changing trends within the mergers and acquisition industry and the company's industry.
One excellent example is the primary driving trend in 2019: high cash level demand. Because of this unexpected trend, many companies decided to hold onto that cash level and wait out the economy. The ultimate result was a mix of unconventional deals.
Having an exit advisor that knows about these unconventional deals and what is happening within the industry is vital for a successful blueprint. It would create less need for change during the sales process and a more reliable outcome.
Finally, measuring the success of an exit plan involves how well the advisor brings in the best group of buyers. Expect to have more than one interested buyer, and expect your interested buyers to have the know-how, experience, and business prowess pertinent directly to your company and your industry. Bringing in the right buyers, addressing all elements of valuation, and crafting an exit strategy to benefit the business and the seller requires an exit advisor with years of experience in handling a sale of a business. That's experience that most business owners simply don't have when writing their own exit strategy.
A Smooth Exit with an Exit Advisor
Business deals are a very private affair. However, the estimate on acquisition failure is that 30% of companies fail within three years of the deal. Advisors acknowledge a lack of preparation as the primary reason for failure so early after the acquisition.
Proper planning starts with a qualified and experienced business exit advisor. These business professionals help owners or company leaders know when it's a good time to exchange hands. It isn't just a matter of the owner stepping away. The many moving parts of an acquisition demand that the business itself be ready to move under new ownership or control.
Leaving a business involves people such as long-appreciated staff-members, finances, legal dealings, the IRS, your industry, and potential buyers. Exit advisors are the planners and negotiators that want to do right by your business, your employees, and your customers. Moving on from your business should orbit around your needs and your company's future.
Talking with an exit advisor can lay down the foundation for your expectations. What legacy do you see for your company? Do you want an advantageous and forward-thinking buyer to take the company to greater heights? Have you always hoped that your company would remain small-business or family-oriented? These elements are important to many business owners, just as knowing what will happen to your staff may be a top priority. You may want to know that certain employees have some protection or ability to grow into new positions. Ideally, you'll have confidence in moving on from the company because an exit advisor has crafted a deal and helped find a buyer that fits your business.
The business sales process is often time-sensitive, legally intense, intricate, and can cause emotions to run high. An exit advisor serves to advocate for the voices often lost in the process, the people who worked diligently to reach the company's current level of success. Make sure you have someone on your side to protect your interests and your legacy.
Start speaking with a qualified and experienced exit advisor today with American Fortune. Our team of business sales and acquisitions advisors have a passion for continuing legacies. We aim to maximize value, celebrate lifelong success, and to acknowledge key entrepreneurial achievements.